Digital Trolley Care LLP is a subsidiary of Ambika Press Metals
(CopyRight No. L-71471/2017)
Is An Excellent Service Provider For Maintenance & Repair of Trolly, Pallet & Material Handling Equipments Through The Medium of App.
Trollies repair & maintenance issue – downtime of trollies

These effects in investment for standby/ stopgap adjustment

Losses affecting as –

Production loss due to supply issues on time.
Parts damaged due to poor handling ( rework/rejection cost).
Underutilization of transporting vehicle (excess expenditure in

fuel/manpower).

Monitoring & controlling trollies.
Inventory management of trollies.
History of maintenance.
Asset tracking.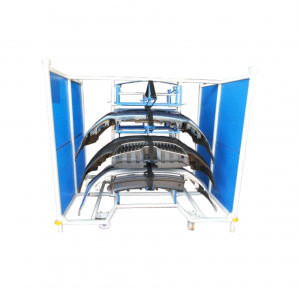 1. High Overhead Expenses
2. Asset Management is a big task
3. Clash of responsibility – theft/damage/mishandling accountability deficit
4. Needs to involve multiple agency – Production / Quality / Process / Logistic / Purchase / Finance – Synergy is time consuming.
5. No control over downtime. (Maximise Asset Blockage)
6. Measuring efficiency is a challenge, as due to ownership difficult, leads to high asset Investment
7. Challenge in managing trolley & tracking location. (OEM/Tier1…Tire2…)
8.Need to deploy separate team for managing repair/maintenance activity – no control on spares/time
9. Needs to develop an effective process – involvement of maintenance / Industrial Engg dept (Multiple follow-up points – week links).
1. Reduction in Overhead expenses (Outsourced Module).
2. Easy to identity the Trolley / Pallets. (Effective Asset Management)
3. Precise responsibility defined – theft / damage / mishandling easily identified (accountability defined)
4. Easy Complaint tracking with pictorial support. (User Friendly)
5. Reduction in downtime. (Minimum asset Blockage)
6. Increase in efficiency. (Hign Uptime) – reduction in Asset Investment
7. Easy asset tracking during the external audit.
8. Trouble-free maintenance.
9. User friendly process.